Penlink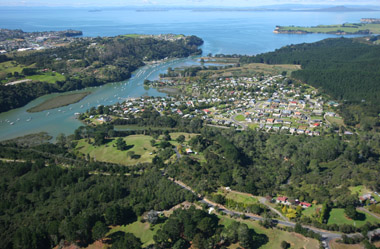 Weiti River estuary and Stillwater in an eastward view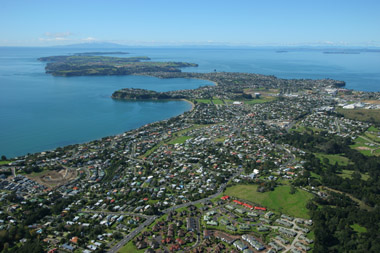 Whangaparaoa Peninsula (Peninsula Club in foreground)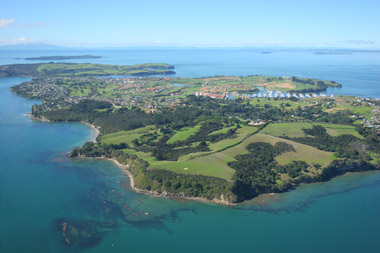 Eastern end of Whangaparaoa Peninsula including Gulf Harbour and Shakepear Park. Fisherman's Rock in foreground 
Wayne has supported Penlink according to Council policy which is no cost and "minimal risk to ratepayers". For "minimal" risk Wayne would prefer "no risk" because of the substantial sums of money involved.
Click to view Wayne's special VIDEO ADDRESS on Penlink. You may download the video (2.15Mb) (Windows Media Player Required). This clip is a segment from Wayne's 15 minute 2007 video address.
Wayne says "Council must make sure that the private partner takes out the risk so that ratepayers are not exposed to funding shortfalls. With Rodney and especially Hibiscus Coast ratepayers' already high borrowing and interest burden we have to make absolutely sure this project does not add to it."
"We, including the community, also need to see the business case for the project. It is public money, either from regional fuel tax money and from developer contributions through Council that are supporting most of the cost. Effectively the public is paying directly via tolls – so the public do have a direct interest."
Wayne believes that Penlink should be considered as part of a package of traffic reduction measures for Whangaparaoa and the Hibiscus Coast.
Complementary measures that Wayne continues to campaign for are:
Hibiscus Coast loop shuttle bus (more than 60% of trips are HBC trips)
Busway 'Park & Ride' at Silverdale close to the motorway interchange with smaller local 'Kiss & Ride' areas in Orewa, Silverdale North and Whangaparaoa. (This is similar to the Busway facilities for the North Shore) *. Wayne represents Council on the Northern Busway committee.
Improved and more regular bus feeder services from the HBC into the North Shore, Auckland City and to the West *
More regular and faster (half hour trip) Gulf Harbour Ferry runs into the City and the North Shore with shuttle-bus connections at the Whangaparaoa end. * (Note that these improvements should be business-case driven over time)
Intersection improvements including more use of roundabouts, free turns, synchronised lights, local roading enhancements…to keep traffic flowing.
Continued Travel planning and walking school bus plans for Hibiscus Coast schools. * Wayne has championed these on Council.
Rodney District Council car-pooling to cut car use and costs. *
Smart planning on the Whangaparaoa Peninsula to reduce housing densities in Gulf Harbour and elsewhere to reduce congestion and improve traffic flows on local roads, more local reserves funded from Developers Contributions to reduce local traffic congestion. *
Encouragement of car-pooling including the type of measures being used successfully on the North Shore including High-Occupancy Vehicle Lanes (this could be implemented over time on the Hibiscus Coast Highway and Whangaparaoa Road homebound from the Highway to Viponds Road. *
These measures are all able to receive some form of subsidy or are non-ratepayer funded or privately funded; most of them will be quick to implement with a Council that is committed and focused. They also reduce the community's carbon footprint and help reduce greenhouse gas emissions and therefore may well attract further ongoing subsidies.
Response from Eastern Ward Councillor Wayne Walker to questions from Penlink Now re Penlink
June 12 2005

Question
​Will you support and agree to act urgently to progress Penlink?
Will you agree to having a representative of the community to support the Council on a working party to progress Penlink urgently?
Answer
I have supported Council's policy of Penlink at no cost and no (now modified to minimal) risk to ratepayers. I have a consistent track record of voting at Council meetings to this end.

I support an integrated transport and land-use solutions to the transport congestion problems of Whangaparaoa and the Hibiscus Coast pursuing least cost, quick and easy options that add to the quality of life on the Hibiscus Coast including Whangaparaoa.

Council and the community should have all the cards on the table on Penlink and the other transport and landuse solutions for the area. This is not the case at present. Important information that is needed for the community to properly and prudently address solutions is being withheld. This includes information prepared by Transit New Zealand for our Council that I am presently seeking as a resident through the Local Government Official Information and Meetings Act. This together with other important information prevents the community from having an urgent resolution to Penlink and also hinders the planning and implementation of a variety of solutions.

I support having a community working party on not just Penlink but a number of solutions to the transport and land-use problems of the Hibiscus Coast and Whangaparaoa. There should be a number of community people on such a working party or parties.
​