Breaking News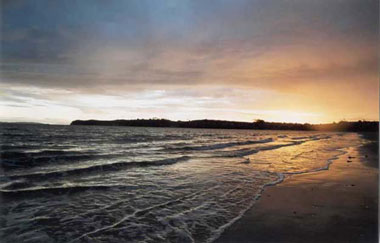 Big Manly Beach -- one of the at-risk treasures of Rodney which Wayne has helped to successfully defend. (click to enlarge)
Thursday 11 October 2007 - With only 2 days to go...
The feedback I am getting from people I'm meeting is very positive. Both for myself for the Mayoralty and for all the Team Hibiscus Coast candidates for Council. I'm encouraging voters everywhere to use this opportunity to elect councillors with professional and community track records – so we have a council that can work well for its communities.

I think that people understand the crucial issues facing their communities and Rodney as a whole. They appreciate that I'm out there talking with them, picking up on ideas and comments. For me it's very much a grass-roots campaign.
It's also been a terrific opportunity to experience some of the special places in Rodney. The election meeting at the one hundred year old Makarau Hall for example – on the same evening we had the huge downpour and hail that made some of the roads almost impassable.
Because it's often not possible to talk with people for as long as I'd like, I'm encouraging them to email me or see me after the election is over.
It's important for people to know that they can talk and communicate with me in confidence. This is one of the advantages of making yourself available to people, and as Mayor I'll continue this way.
The election campaign has been a very positive one for me, focusing on the constructive action that council needs to take on responding to the needs of its communities, making rates more affordable and giving people value for their money and a council they can be proud of.
Thanks to you all, Wayne​
Wednesday 26th September - PRESS RELEASE on Orewa High-Rise: Crucial Council debate and decision on variation now postponed!
Wednesday 26th September 2007
RESULT OF SPECIAL MEETING OF COUNCIL ON MONDAY 24TH SEPTEMBER 2007
The Council move to have Orewa high-rise zoning plans out before the election has been put off.
"This is a victory for the huge majority of Orewa people who are against the spread and scale of high-rise in Orewa," says Cr John Watson
"The three of us on the Team Hibiscus Coast Team – Wayne Walker, Colin MacGillivray and John Watson – managed to convince enough other councilors to wait till after the elections. It's up to Orewa and Hibiscus Coast voters now to elect councillors who will have an Orewa residents' referendum on high-rise," says Hibiscus Coast councilor Wayne Walker.
"The most telling point was the 
graphic illustration of 18 high-rises
 in the residential part of Orewa south alone. Colin MacGillivray showed that even this was an underestimate and that 24 seven storey towers were possible between the shops and the Baptist church," says Cr Wayne Walker. "We also emphasized the precedent this would have on other parts of Orewa and then Red Beach and Whangaparaoa."
"This would create a 7 storeyed concrete wall along the Hibiscus Coast highway," says councilor Colin MacGillivray.
"How could councilors even consider approving a structure plan, then a zoning change document all on the same day just weeks out from the election – without any public consultation on the structure plan first," says Cr Walker.
"To have rushed it through knowing the public opposition would have been reprehensible," says Cr Watson. "The entire process has been hopelessly compromised. It really is without any credibility as far as the public are concerned."
"I also raised the issue of conflict of interest on the part of councillors, Mayoralty candidates and others receiving assistance from developers directly involved with this high-rise land and I asked for the cards to be put on the table for Council and community – so people know. Hibiscus Coast voters should have this information now so they have a clear choice between candidates with high-rise connections and those advocating a referendum on the issue – and anyone on Council with a conflict of interest shouldn't even be discussing the issue around the Council table," councillor Walker says.
"One way or another the people of the Hibiscus Coast will decide the high-rise issue by who they vote for."
Tuesday 25th September - New Facility!
PHONE IN on
*** (or skype ***) to record an AUDIO MESSAGE for this site
Share News & Information
Voice your Opinion
Ask Questions
Indicate in your message whether you would like it to be posted as an audio clip as received, or transcribed and posted in text form, and whether you wish to be identified or remain anonymous.
This facility has been provided for you to promptly and efficiently ask questions, share news, information and opinions live with others online.
If you wish to be contacted by Wayne, please go to the Your Questions page.
​​